A man of invention?
According to Norfolk & Western, Gage was from Fairfield, Iowa, and he was traveling on the train's rear sleeper, Calmar.1 Like many of the passengers on that sleeper, Gage was not mentioned in the newspaper reports around the time of the wreck because most of the drama took place in the cars in front of Calmar. A patent filed the week after the wreck might provide a clue.
On July 10, 1889, the application for patent number 417,819 was filed by James P. Gage of Fairfield, Iowa. This particular J.P. Gage was seeking a patent for improvements he had developed for a folding chair concept he had originally patented in 1887. Drawings of his 1889 concept chair included in his patent application are shown below.2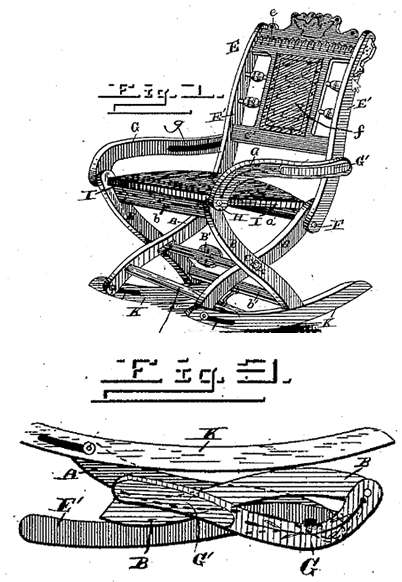 Since there was no direct mention of Gage outside of Norfolk & Western's official report, there is no hard evidence to say with certainty who the J.P. Gage from Fairfield, Iowa was on the train. The closest census record is an 1885 Iowa state census entry for a J.P. Gage in Fairfield. He is listed as thirty-nine years old and originally from Ohio. His wife was named Annie, she was thirty-seven and also hailed from Ohio. J.P. and Annie had four children at the time, Clara(18), Eva(15), Minnie(11), and Bertie(9). The three youngest were born in Iowa, while the two older siblings were born in Ohio. Gage's occupation on the census is difficult to make out, but it appears to be "pattent right". This may have some relationship to his status as an inventor.4
The J.P. Gage in the 1885 Iowa Census is listed in the 1880 United States Census as James P. Gage, a resident of Villisca in Montgomery County, Iowa. His wife, listed as Anna, and all four of their children are listed with ages and birth locations that match with the 1885 Iowa state census record. Gage was already an inventor in his early thirties, as his occupation is listed as "Patenter of Gage's Harrow" by the census taker.5 A harrow is a plow-like device, and Gage's patent may have been number 223,334 which had been approved earlier that year. If so, then the patent documentation indicates that Gage the inventor's full name was James Pike Gage.6
James Pike Gage seemed like an interesting fellow, but was he the same man as the J.P. Gage listed as a passenger in the Thaxton train wreck? The census and patent records suggest he may have been, but the four-year gap between the 1885 Iowa census and the wreck in 1889 means we can't say for sure. It is certainly possible that another J. P. Gage had moved to Fairfield during that four-year period, but the circumstances suggest that the inventor James Pike Gage was the man on the train. Do you think you know who the J.P. Gage was on the train that night? If you think he might have been an ancestor of yours, or if you have some additional information that might help identify Gage, I'd love to hear from you. Thanks!
Sources
Fourteenth Annual Report of The Railroad Commissioner of the State of Virginia, J.H. O'Bannon Superintendent of Public Printing, Richmond, VA, 1890: p. xlv. http://books.google.com/books?id=CFopAAAAYAAJ


James P. Gage. Folding Chair. U.S. Patent 417819, filed July 10, 1889, and issued December 24, 1889.

Ibid.

Iowa state census record for J.P. Gage, Ancestry.com. Iowa, State Census Collection, 1836-1925 [database on-line]. Provo, UT, USA: Ancestry.com Operations Inc, 2007. Original data: Microfilm of Iowa State Censuses, 1856, 1885, 1895, 1905, 1915, 1925 as well various special censuses from 1836-1897 obtained from the State Historical Society of Iowa via Heritage Quest.

Census record for James P. Gage, Year: 1880; Census Place: Villisca, Montgomery, Iowa; Roll: 357; Family History Film: 1254357; Page: 389B; Enumeration District: 149; Image: 0780.

James P. Gage. Harrow. U.S. Patent 223334, filed November 10, 1879, and issued January 6, 1880.